Description
Panizo Distilleries
Destilerías Panizo is a family-run business with a long tradition in the alcoholic beverage sector (liqueurs and orujos). The company was created in 1938. In those days, a small copper still was used to distil the traditional aguardiente de orujo (Spanish pomace eau de vie) which was sold in the region of Tera. In the eighties, the third generation of the Panizo family, Jerónimo, María Jesús and Ana María, took charge of the business. They industrialised the production while maintaining traditional distillation methods, started producing new products and succeeded in earning a well-deserved place in the national market of orujo liqueurs. The company stands for innovation and new product development. In fact, the company has achieved IFS Certification in facilities, processes and products. The traditional glass bottles that contain their orujos have an exclusive design and an innovative spout patented by the distillery. Today, the company sells its orujo products across Spain and has an annual production capacity of six million bottles.
The month of November, when the wine harvest season has just finished, marks the start of one of the company's busiest periods: distillation. The distillery buys the pomace of fresh and fermented grapes from thirty or so bodegas with Toro, Ribera and Rueda Denominations of Origin and the Vino de los Valles de Benavente quality distinction. It is essential to gather them quickly and transport them carefully in order to avoid their deterioration. This is the raw material that Panizo distils in its traditional copper boilers in order to extract the eau de vie that serves as the base for its orujo liqueurs. The distillation is carried out by a low pressure steam method. Each boiler produces 20 litres of eau de vie with an alcohol content of approximately 60%. Only the core or the centre of each distillation batch will become the base for the different varieties of Panizo Orujo. There are continuous quality controls throughout the entire process.
Caramelorujo. Caramel Liqueur. 70cl. 10cl. 5cl. 30% Vol. Serve cold.
The new taste of caramel. Caramelorujo is made from caramel and "orujo" (eau-de-vie). Taste of toasted caramel and touches of coffee. It is sweet, round and soft to the palate. It makes a perfect combination to enjoy at any time, day or night. Enjoy it very cold, straight or with ice and discover the true taste of caramel with our original formula. Packed in an original 70 cl. silver color squared bottle. It has a anti-sliding design and a natural cork cap.
Presentation
700ml bottle 06 units/box. 95 boxes/pallet.
100ml bottle 36 units/box. 96 boxes/pallet.
50ml bottle 56 units/box. 108 boxes/pallet.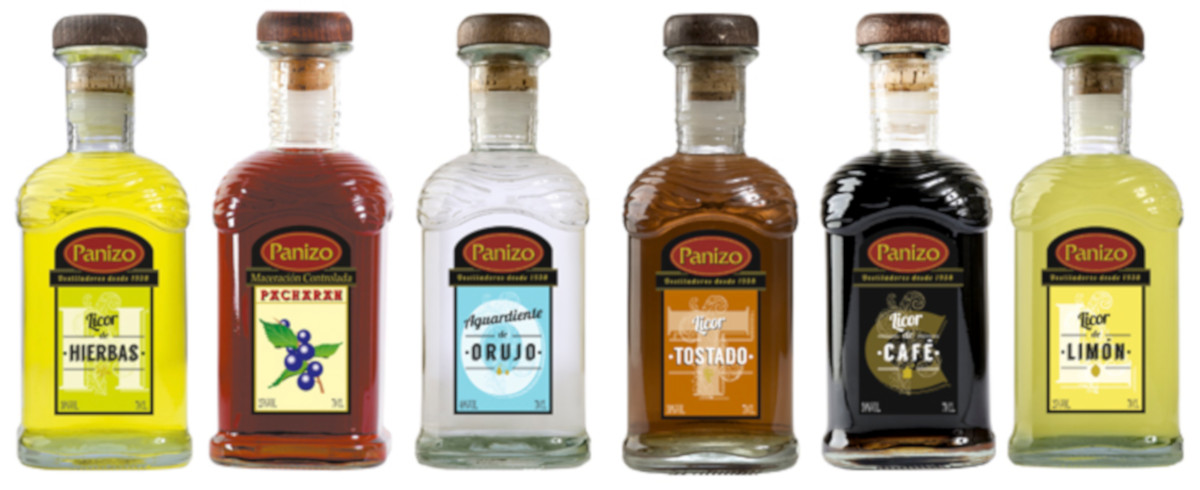 IFS-International Featured Standards https://www.kalitat.com/ifs-international-featured-standards