Description
Viñas del Bierzo
Viñas del Bierzo was born in 1963, being the first cooperative winery that is installed in the Bierzo region. In its beginnings, 100 members make up the winery, which gives it an almost "familiar" character; The great family of Viñas del Bierzo currently exceeds 900 members. Although our management system has been adapted to the current times and rhythms, as any other winery would do, we continue to preserve the initial spirit that managed to unite an entire village, Camponaraya, around a business venture like this one. For more than 50 years, this winery has been producing and packaging table wines of quality, under the attentive and demanding gaze of the Regulatory Board of the Bierzo Designation of Origin.
Our winery, located in the vicinity of the town of Camponaraya, near Ponferrada, has an area of ​​25,000 m2 and capacity to house 10 million liters of wine. Currently, our average productions are around 5-6 million liters/year. We have a recently renovated bottling plant, which produces between 5,000-6,000 bottles/hour and our barrel park already exceeds 600 units, both American and French oak. Our winery packs wines both with our own brands and for third parties. The winery has been immersed for 6 years in a process of modernization, adaptation to the new demands of the market and internationalization, which has led our wines to be present in European markets such as the United Kingdom, Austria, Switzerland, Germany, France , Denmark … and in the United States, Mexico, Japan, where we have recently entered. We constantly introduce changes and improvements in the image of our wines, improving and adapting bottles and labels; in the quality of the same, investing in new vineyard control processes and in vitivinicultural technology (stainless steel tanks, fermentation at controlled temperature, implementation of the traceability system from the entrance scales in the warehouse to the exit, etc. .), and in the general image of the winery (modernization and renovation of the warehouses, façade, attention area for pilgrims, shop …). Our winery, located on the Camino de Santiago, sees passers-by, coming from all over the world, passing through to Santiago.
In the 80s, our winery became one of the precursors of the birth of what is now the Regulatory Council of the Bierzo Designation of Origin. These are times in which the productions are high, the bulk market is very powerful and the demand is high. Viñas del Bierzo, aware of the constant evolution of the market, installed its first bottling plant. The first bottlings of our winery begin to see the light: "Naraya" is born, our most veteran brand. You will be followed by "Valmagaz", "Marqués de Cornatel" and the flagship brand of the winery and wines aged in wood from El Bierzo: Gran Bierzo. Later, in the 90s, "Fundación 1963" joined, a reserve born to commemorate the 40 years of the winery; The winery continues to grow in production and size. Our wine growers already exceed 1,200 and the extension of vineyard controlled by our winery exceeds 1,000 hectares. New ships are built; the diesel fuel pump is installed and the warehouse for fertilizers, feed and phytosanitary products is opened. New facilities (renewal of the grape reception area, stainless steel hoppers and tanks, implementation of computerized traceability systems, ..). And we continue, in constant evolution, adapting our cellar to the times.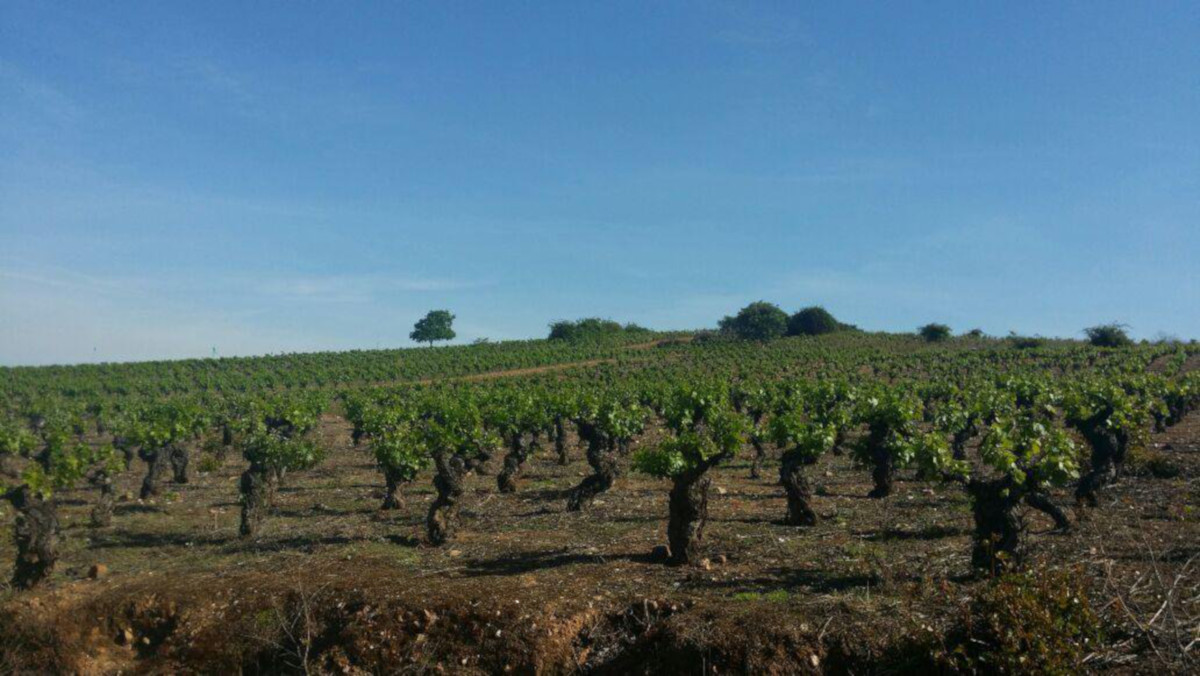 Alma Mater Frizzante Rose. Semi-Sweet. 100% Mencía. 7% Vol. Bottle 75cl. Tierra de Castilla y León D.O.
Frizzante Rose, semi sweet, made with grapes from the Mencía variety coming from vineyards between 40 and 60 years old in areas of very mineral soils, located at an altitude of between 500 and 800 meters. Very fresh, aromatic and fruity. Due to its low alcohol content, Alma Mater is ideal to drink alone or accompanied by appetizers, desserts, etc.
Kind: Semi-Sweet Frizzante Rose.
Variety: 100% Mencía.
Appellation: Tierra de Castilla y León D.O.
Harvest: Hand-picked.
Alcohol: 7% Vol.
Winemaking: Alma Mater Rose is a semi sweet wine, made from grapes of the Mencía variety. Alcoholic fermentation in stainless steel tanks with cold shutdown to maintain sugars and alcohol content.
Tasting Notes: Alma Mater Rose has a very intense and bright strawberry pink color; clean, with slightly garnet and purple shades. Powerful primary aromas of great intensity to strawberries, raspberry … The palate is very powerful, with a very pleasant and a carbonic tip that makes it refreshing and perfect for any occasion. End of long and persistent mouth.
Pairing: Ideal pairing with fruit desserts, chocolates or as aperitif wine or "between hours".
Consumption: It should be served very cold.
Awards: Silver Medal Awards With Wine 2018. Honorable Mention in the Wine and Women Awards 2016, in the category of rosé wines.
Presentation 75cl bottle in boxes of 06 units.
Mencía https://www.kalitat.com/mencia
Tierra de Castilla y León D.O. https://www.kalitat.com/tierra-de-castilla-y-leon-d-o