Description
Vichy Catalán
A group of healthy sensations. After 135 years we are still a young company with a great future. This is because our philosophy is to be the point at which nature and people come together. We are committed to giving service to consumers who know that pleasure and health are not dissociated ideas but the basis for wellbeing. Both are often found in what is truly natural. Vichy Catalán Corporation products therefore fulfil this commitment because of the sensory impressions they give rise to and their indisputable, proven health properties. The acknowledgement received by cuisine and health professionals is a guarantee. This is the commitment we have taken on and one that has made us the leading Spanish and independent group on the natural mineral water market. Most of our effort and resources are therefore assigned to innovation, research and training programmes that enhance our work and service capacity. 1881. Dr. Modest Furest Roca scientifically verifies the beneficial properties of the water and acquires the spring in 1881. 1883. Publication of the Royal Order in which Vichy Catalan water is declared a Public Utility. 1889. Inauguration of the first bottling plant. 1890. On May 1st 1890, the Spanish State grants the Vichy Catalán trademark registration. 1900. Constitution of S.A. Vichy Catalan. 1986. From the year 1986 on, the company starts to diversify its products and acquires a number of other reputed springs. 1987. Inauguration of the exhibition "Caldes de Malavella, manantial de Cataluña", sponsored by S.A. Vichy Catalan, in the Casino of Caldes de Malavella. 1992. Vichy Catalan and Font d'Or are selected as the « Olympic waters » in the Olympic Games held in Barcelona. 1996. The international certifying agency Der Norske Veritas (DNV) grants Vichy Catalan the ISO 9001 quality standard, certifying its supreme quality with maximum safety guarantees throughout the bottling, marketing and distribution processes of Vichy Catalan natural mineral water. On February 17th, 2003 the ISO 9001 quality certificate is renewed based on the new revised ISO 9001:2000 standard. 2001-2003. Construction work is carried out on the building for receptions, conventions and business meetings in the Vichy Catalan Spa Hotel, with 2,700 sq m of usable surface area. 2002. Remodelling of the kitchen in the Spa Hotel to deal with the growing demand for the Delicius Restaurant and the receptions, congresses and conventions business. 2003. S.A.Vichy Catalan becomes one of the 60 full members of the Asociación de Marcas Renombradas (AMRE) (Association of Renowned Trademarks), which together with the Ministry of Science and Technology and the Spanish Institute of Foreign Trade (ICEX) comprise the 'Foro de Marcas Renombradas Españolas' (FMRE) (Forum of Spanish Renowned Trademarks). 2004. The Vichy Catalan Spa Hotel is awarded the UNE EN ISO 9001:2000 certification for accommodation and restaurant facilities, audited by the company Tüv, and also the Q for "Quality" standard granted by the certifying committee of the Instituto para la Calidad Turística Española, ICTE (Spanish Tourist Quality Institute). Publication by the reputed American magazine "The Journal of nutrition" of a study by Doctor Pilar Vaquero on the cardiovascular effects of Vichy Catalan water and publication by the Consejo Superior de Investigaciones Científicas (CSIC) (High Council of Scientific Research) of the results of a second study confirming that Vichy Catalan helps to regulate cholesterol levels. The construction of the Meliá Golf Vichy Catalan Hotel by S.A. Vichy Catalan is one of the projects aimed at extending the Catalan PGA Golf circuit, a 4-star superior hotel with 150 rooms. 2005. "The Spanish Government awards Vichy Catalan the "Placa al Mérito Turístico" (Tourist Merit Prize) for its important contribution to promoting quality tourism in the spas industry and gastronomic development in the sector, with its waters, fruit juices and nectars." 2006. December 2006 – inauguration of the first Vichy Catalan Bar & Café in Tokyo's biggest shopping and leisure area (Japan). New machinery installed at the Vichy Catalan bottling plant (Caldes de Malavella), 2006-2007. 2007. Various catering entities organised events to commemorate Vichy Catalan's 125th anniversary. 2008. In 2008 the Vichy Catalan Group entered into an exclusive distribution agreement with Futbol Club Barcelona to supply water to all the group's premises and to become the football club's official supplier. "The 22nd edition of the Salón Internacional del Club del Gourmet (International Gourmet Club Exhibition) proclaimed Vichy Catalan and Font d'Or "Historic Waters of Spanish Gastronomy"." The Vichy Catalan Group was recognised by the FEHR for its 125th anniversary and contribution to Health. 2009. In 2009 the Vichy Catalan was awarded a prize in the Internationalisation category in the 2009 Carles Ferrer Salat Awards. 2010. Vichy Catalan won one of the prizes awarded by the ICIL Foundation at the 6th Edition of the Excellence in Logistics Awards. 2011. Professionals from the hotel, catering, nutrition and bartending industries recognised Font d'Or for its quality. 2012. Vichy Catalan presented a new way of communicating the brand using more contemporary language at the Gran Teatre del Liceu. 2015. Changing the corporate name of the company, Grupo Vichy Catalan happens to have the name of VICHY CATALAN CORPORATION. It also opens the new group's website.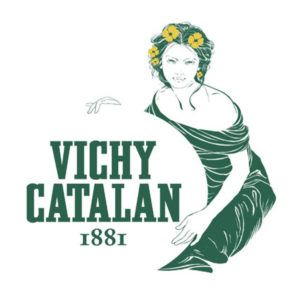 Quality
We are the Meeting Point between Nature and People. Only products coming from Nature itself can offer the full degree of satisfaction and wellbeing. Our commitment is aimed at those people who want it like this and who, like us, respect and love life. Beyond the limits of our own company structure, we form part of a team that works closely with distributors, retailers, restaurant owners and food chains to reach a common goal: preserve the heritage that nature has created and pass it on, in the finest condition, so that we can all enjoy this genuine inheritance. Thanks to this commitment, Premium Mix Group is the only Natural Mineral Water bottling company in Spain and one of the first in Europe to have attained the ISO 9001 International Quality Certification. The Vichy Catalan Corporation has a clear philosophy; to be a point where Nature and people come together. We assumed this commitment over a century ago, and it has enabled us to be the leading independent player in the Spanish natural mineral water market. Our policy stems from our desire to serve consumers who know that pleasure and health are not incompatible in nutrition, but are the basic principles of well-being. For that reason, the Vichy Catalan Corporation products meet the highest standards with respect to both their organoleptic qualities and their undisputable and proven health-giving properties.Thanks to this commitment, Vichy Catalan is one of the leading Natural Mineral Water bottling companies in Spain, and one of the first in Europe to obtain ISO 9001 International Quality Management Standard and ISO 22000 International Food Safety Management Standard certification. Food quality and safety policy. Vichy Catalan Corporation consider that it is of the utmost importance to improve Quality Management and Food Safety, based on the ISO 9001 and ISO 22000 standards currently in force, at all organisational levels. Our fundamental objective is to guarantee that the genuine purity, quality and food safety of our products are maintained, and that our customer service continues to improve, as we are well aware that this is an essential prerequisite to ensure their satisfaction and, consequently, the viability of the company. The products we supply are the end result of our effort and present our image to society. Only the most advanced production technology can guarantee that their original quality is unchanged. Likewise, we fully guarantee compliance with the legal, regulatory and customer-related requirements for quality and food safety that apply to our activity. We know that this can only be achieved with the cooperation of all our professionals and for that reason we provide information and training for our staff and motivate them, as a basis for guaranteeing the continual improvement of our processes and Quality Management and Food Safety System. We aim to maintain the trust that our customers, consumers, suppliers, and society in general have in us. The Quality Management and Food Safety System is everyone's responsibility. Management fully supports it and undertakes to: Provide the necessary resources for its implementation, maintenance and improvement. Communicate effectively regarding all matters related to Quality and Food Safety both inside the company and outside it. Establish the most appropriate Quality and Food Safety Objectives in line with our business aims. Vichy Catalan Corporation ISO 22000 food safety management system. The Vichy Catalan Corporation companies' Food Safety Management System is based on the ISO 22000 standard. The first version of the ISO 22000 standard, drawn up by the International Organization for Standardization (ISO) ISO/TC 34 Technical Committee, was issued in September 2005. It is based on the HACCP (Hazard Analysis and Critical Control Points) described in the Codex Alimentarius, the work of a commission set up by the FAO/WHO for the creation and development of food standards. It also maintains the Continual Improvement structure of the ISO 9001 (Quality) and ISO 14000 (Environment) Standards with which it is fully compatible. The ISO 22000 standard is reviewed regularly by the Committee and the first review, published in September 2005, continues to be valid. In keeping with the spirit of the standard, the fundamental aim of our Food Safety Management System is to ensure that our natural mineral waters retain their intrinsic innocuous quality and, consequently, their health-giving properties during all the processes involved in obtaining, bottling, storing and transporting them to our customers. In addition to implementing a Food Safety Management System based on ISO 22000, Vichy Catalan has been ISO 22000 certified by the prestigious accredited certification body Det Norske Veritas (DNV) since March 2009. The certificate is renewed every 3 years and the company is subject to a follow-up audit every year by the certification body. Vichy Catalan Corporation quality management system based on the ISO 9001 standard. The Quality Management System used by the Vichy Catalan Corporation companies is based on the ISO 9001 standard. The ISO 9001 standard was first drawn up in 1987 by the International Organization for Standardization (ISO) ISO/TC176 Technical Committee, as a development of the British quality standard BS5750 of 1979. It was based on the principles of Client Satisfaction and Continual Improvement. These were established by the American professors Deming, Juran, Shewhart and others after the Second World War and successfully applied in Japan. These principles, which led to what is known as the "Japanese miracle", are summarised in Deming's famous 14 points and in the Continuous Improvement Cycle. The ISO 9001 standard is reviewed regularly by the Committee and the fourth review, which dates from 2008, is still in force. In keeping with the spirit of the standard, the fundamental objective of our Quality Management System is to achieve the satisfaction of all our customers and ensure the company's sustainable growth, in accordance with national and international regulations on food safety and environmental protection. In addition to implementing a Quality Management System based on ISO 9001, the Vichy Catalan Corporation companies have been ISO 9001 certified by the prestigious accredited certification body Det Norske Veritas (DNV) since 1996. The certificate is renewed every 3 years and the company is subjected to a follow-up audit every year by the certification body. Implementation and Certification. Vichy Catalan Corporation has implemented the ISO 9001 Quality Standard and ISO 22000 Food Safety Standard and was certified in these standards by the prestigious accredited certification firm Det Norske Veritas (DNV) in December 1996 and March 2009 respectively. The ISO 9001 and ISO 22000 standards are management tools for the purpose of setting up and maintaining Quality Management and Food Safety Systems to guarantee that our products are safe, in addition to ensuring the satisfaction of our customers and the company?s ongoing improvement. This is clearly expressed in our Quality and Food Safety Policy. The fact that our company is certified, in addition to applying a quality management and food safety system, means that an independent certifying body (there are a large number, including: DNV, TÜV, LLOYDS, BUREAU VERITAS, APPLUS, AENOR, etc.) has examined, or audited, the quality management and food safety systems in place in the company, according to the requirements of the standards and the company has successfully passed.
About Water Gastronomy
The Water Gastronomy Guild was founded with a sense of mission and enthusiasm for promoting and disseminating water culture, so that we may never lose sight of the fact that water does more than quench our thirst: it is also a source of pleasure. Water, omnipresent on tables around the world, contributes its varying tastes and textures to the happiness we enjoy through our palates. The aim of the Guild is to undertake an extensive programme of lectures, talks and study sessions for analysing and disseminating the various values and aspects of water, and also to pursue that work in educational centres. The support of the media will also be sought in spreading awareness of water throughout society. In 1997, the Gastronomy Guild created the Dr. Modest Furest i Roca Prize, designed to promote and disseminate water culture. Through this prize, the Guild was seeking to pay homage to the memory of Doctor Modest Furest (1852-1938), who was born in Sant Pol de Mar and who studied at the Faculty of Medicine and Surgery in Barcelona, graduating when he was only 21 years old. He practised in various towns in Catalonia, and in the thermal town of Caldes de Malavella. It was there that he discovered the Vichy Catalan spring, whose water was shortly afterwards, in 1883, officially declared to be of public interest, and which has since been appreciated for its therapeutic properties and for its distinctive and extraordinary organoleptic properties. This event offers prizes each year for articles, stories and works of art centring on any aspect of water-related themes. Other projects associated with this institution include the arranging of television and radio programmes devoted to water and its properties, and to the thrilling and complex project of founding its own gastronomy and food-science library, taking in literary, scientific and culinary works dealing with water.
Nutrition & Health
Vichy Catalán has become a legendary name across Spain and Europe, acquiring its prestige as a result of its outstanding quality, genuine flavour and proven mineromedicinal properties. The health-related properties of Vichy Catalán are owing to its origins. Doctor Modest Furest was able to show that drinking this water would be beneficial to the digestive system and that it could be used to treat chronic inflammation. There is now a large number of scientific studies performed by independent researchers that show the close connection between drinking natural mineral water and health. The history of Vichy Catalan has close links with health and medicine, through the company's founder, Dr. Modest Furest i Roca, his Spa facilities and the scientific research carried out since the discovery of the waters. Today, the brand waters of the Vichy Catalan Group are still the object of research carried out by a large number of scientific experts, who reaffirm the health-enhancing properties of our products. Are you worried about Digestion?. Discover how Vichy Catalan can help you. You have wondered on occasion if the daily water that we consume can influence on our health? In Vichy Catalan Corporation yes. More than 135 years investigating to reply questions like this and today we want to share with you. Are you worried about Cholesterol?. Discover how Vichy Catalan can help you. You have wondered on occasion if the daily water that we consume can influence on our health? In Vichy Catalan yes. 129 years investigating to reply questions like this and today we want to share with you. Recipes. Our waters, with their characteristic mineralisation and natural properties, play a leading role both on our consumers' tables and in their kitchens, where they add a rich variety of nuances and flavours to the end results of a whole range of dishes. Cooking with Vichy Catalán, Font d'Or, Font del Regas or any one of our waters is an effective way of combining water gifted to us by nature that reaches us with all its qualities intact together with the very best local produce. This alliance delights chefs and bartenders constantly in search of healthy sensations for demanding palates and, of course, all family cooks who use them to prepare the healthiest and most delicious home-made dishes. Our waters are also essential for teas and infusions, adding texture and enhancing the true flavour of the herbs used to make them. Vichy Catalán TV.
Spa Hotel in Caldes de Malavella
In the Balneario Vichy Catalan enjoy, in addition to the accommodation and Hydrotherapy services, tranquility and well-being. Surrender to the charm of Modernism, the extensive gardens and common areas filled with history, cafe lounge, terrace, chapel, indoor garden, the hall, the outdoor pool. In short, a rewarding and refreshing experience in the Hotel in Costa Brava. Located in Caldes de Malavella, Girona, Spain. The Balneari Vichy Catalan located in the thermal village of Caldes de Malavella provides an atmosphere of tranquility and relaxation. It offers 86 rooms, balneotherapy center with thermal water used for body treatments, restaurant offering menus and à la carte service, private chapel, 700 square meters of meeting rooms, outdoor pool, tennis court, tennis table, playground, bike rentals … all set in a garden of 20,000 square meters designed to disconnect from your daily routine. Balneario Vichy Catalan thermal centre offer the possibility of combining the therapeutic aspect to the amenities of a grand hotel and the tranquility and landscape of the region of La Selva. Located in the Hotel Balneario Vichy Catalan in Caldes de Malavella, the Delicius restaurant is the best place to sample the region's gastronomy. Led by the chef David Heras, who together with Carles Gaig recently published La Cocina de los Carteles Modernistas (The Cuisine of the Modernist Posters), the restaurant staff offer an exquisite combination of spa cuisine and traditional cuisine using high-quality, local products. Dishes are prepared using Vichy Catalan spa water, which brings out all the colours, flavours and textures of the products used. The Great Event Rooms available at the Balneario Vichy Catalan, in operation since 2003, offer an ideal space for conventions, family celebrations and large events. A total of nine modular rooms with natural light and well equipped, with over 2,000 square meters and a disco for over of 150 people.
Vichy Catalán Flavours Zero Sugar. Natural Essences. Lemon. Orange.
Sparkling Natural Mineral Water. Spring Water. Medicinal Mineral Water. Can 33cl. Glass Bottle 25cl.
You set the tempo. Being young means being genuine. Young people might like to change their appearance, but they don't change inside, they're still genuine. That's why Vichy Catalan has a new look. Inside, it's still the same Vichy Catalan, but in a can, it's the healthiest soft drink around. Being young means being innovative. Want to amaze everyone wherever you go?. The new Vichy Catalan can is sure to be a hit. You only have to see its Protective Lid, a completely new feature making the Vichy Catalan can the trendiest one around. Safety Seal: new sealed lid. Always Sterilised: protected from dirt and germs. Always Recyclable: 100% biodegradable and recyclable plastic. Beyond the taste. The new look of Vichy Catalán goes beyond!. For those who want a more refreshing experience, for those who want to go further, Vichy Catalán Flavors has been created, the flavor of always, the original and genuine, but with a touch of flavor, choose the one you like the most. The most healthy drink!. New look. All this in the new format of the can of Vichy Catalán with a unique protective cap that allows you to never lose the essence. Because although we like to change on the outside, inside we remain the same!. The perfect pair, some flavours are destined to be toguether. Life is like that. And even better with two. This is why we know some flavours just can't be separated. Vichy Catalan Orange, the perfect partner to Vichy Catalan Lemon. These are flavours that explode on your palate, a pleasure for the taste buds. For a consumer who is young, daring and eager for new experiences. With 0% sugar and 0% calories, new Vichy Catalan Orange lets you make the most of the moment, naturally, because it's made with Vichy Catalan and natural essences. Enjoy an effusion of thirst-quenching sensations, the best of healthy products, with Vichy Catalan Lemon always at its side, its perfect partner. 100% Flavour. 0% Sugar.
Presentation
Lemon 33cl can 24 units/box. 198 boxes/pallet.
Orange 33cl can 06 units/box. 396 boxes/pallet.
Lemon 25cl glass bottle 06 units/box. 180 boxes/pallet.
Orange 25cl glass bottle 06 units/box. 180 boxes/pallet.
Spring Water https://www.kalitat.com/spring-water
Natural Mineral Water https://www.kalitat.com/natural-mineral-water
Water https://www.kalitat.com/water
Horeca https://www.kalitat.com/horeca
Vichy Catalán Flavours Zero Sugar Technic Sheet (pdf)
Vichy Catalán Full Catalogue (pdf)
Vichy Catalán ISO 9001 Certificate (pdf)
Vichy Catalán ISO 22000 Certificate (pdf)