Syrah, also known as Shiraz, is a dark-skinned grape variety grown throughout the world and used primarily to produce red wine. In 1999, Syrah was found to be the offspring of two obscure grapes from southeastern France, Dureza and Mondeuse Blanche.[1] Syrah should not be confused with Petite Sirah, a cross of Syrah with Peloursin dating from 1880.
The style and flavor profile of wines made from Syrah is influenced by the climate where the grapes are grown with moderate climates (such as the northern Rhone Valley and parts of the Walla Walla AVA in Washington State) tending to produce medium to full-bodied wines with medium-plus to high levels of tannins and notes of blackberry, mint and black pepper. In hot climates (such as Crete, and the Barossa Valley and McLaren Vale regions of Australia), Syrah is more consistently full-bodied with softer tannin, jammier fruit and spice notes of licorice, anise and earthy leather. In many regions the acidity and tannin levels of Syrah allow the wines produced to have favorable aging potential.[2]
Syrah is used as a single varietal or as a blend. Following several years of strong planting, Syrah was estimated in 2004 to be the world's 7th most grown grape at 142,600 hectares (352,000 acres).[3] It can be found throughout the globe from France to New World wine regions such as: Chile, South Africa, the Hawke's Bay, Waiheke, New Zealand, California and Washington. It can also be found in several Australian wine regions such as: Barossa, Heathcote, Coonawarra, Hunter Valley, Margaret River and McLaren Vale.
Syrah has a long documented history in the Rhône region of southeastern France, but it was not known if it had originated in that region. In 1998, a study conducted by Carole Meredith's research group in the Department of Viticulture and Enology at University of California, Davis used DNA typing and extensive grape reference material from the viticultural research station in Montpellier, France to conclude that Syrah was the offspring of the grape varieties Dureza (father) and Mondeuse blanche (mother).
Dureza, a dark-skinned grape variety from the Ardèche region in France, has all but disappeared from the vineyards, and the preservation of such varieties is a speciality of Montpellier. Mondeuse blanche is a white grape variety cultivated in the Savoy region, and is still found in very small amounts in that region's vineyards today. Both varieties are somewhat obscure today, and have never achieved anything near Syrah's fame or popularity, and there is no record of them ever having been cultivated at long distances from their present homes. Thus, both of Syrah's parents come from a limited area in southeastern France, very close to northern Rhône. Based on these findings, the researchers have concluded Syrah originated from northern Rhône.
The DNA typing leaves no room for doubt in this matter, and the numerous other hypotheses of the grape's origin which have been forwarded during the years all completely lack support in the form of documentary evidence or ampelographic investigations, be it by methods of classical botany or DNA. Instead, they seem to have been based primarily or solely on the name or synonyms of the variety. Because of varying orthography for grape names, especially for old varieties, this is, in general, very thin evidence. Despite this, origins such as Syracuse or the famous Iranian city of Shiraz have been proposed while the genomic studies have yet to be done.
The parentage information, however, does not reveal how old the grape variety is, i.e., when the pollination of a Mondeuse blanche vine by Dureza took place, leading to the original Syrah seed plant. In the year AD 77, Pliny the Elder wrote in his Naturalis Historia about the wines of Vienne (which today would be called Côte-Rôtie), where the Allobroges made famous and prized wine from a dark-skinned grape variety that had not existed some 50 years earlier, in Virgil's age. Pliny called the vines of this wine Allobrogica, and it has been speculated that it could be today's Syrah. However, the description of the wine would also fit, for example, Dureza,[1] and Pliny's observation that vines of Allobrogica were resistant to cold is not entirely consistent with Syrah.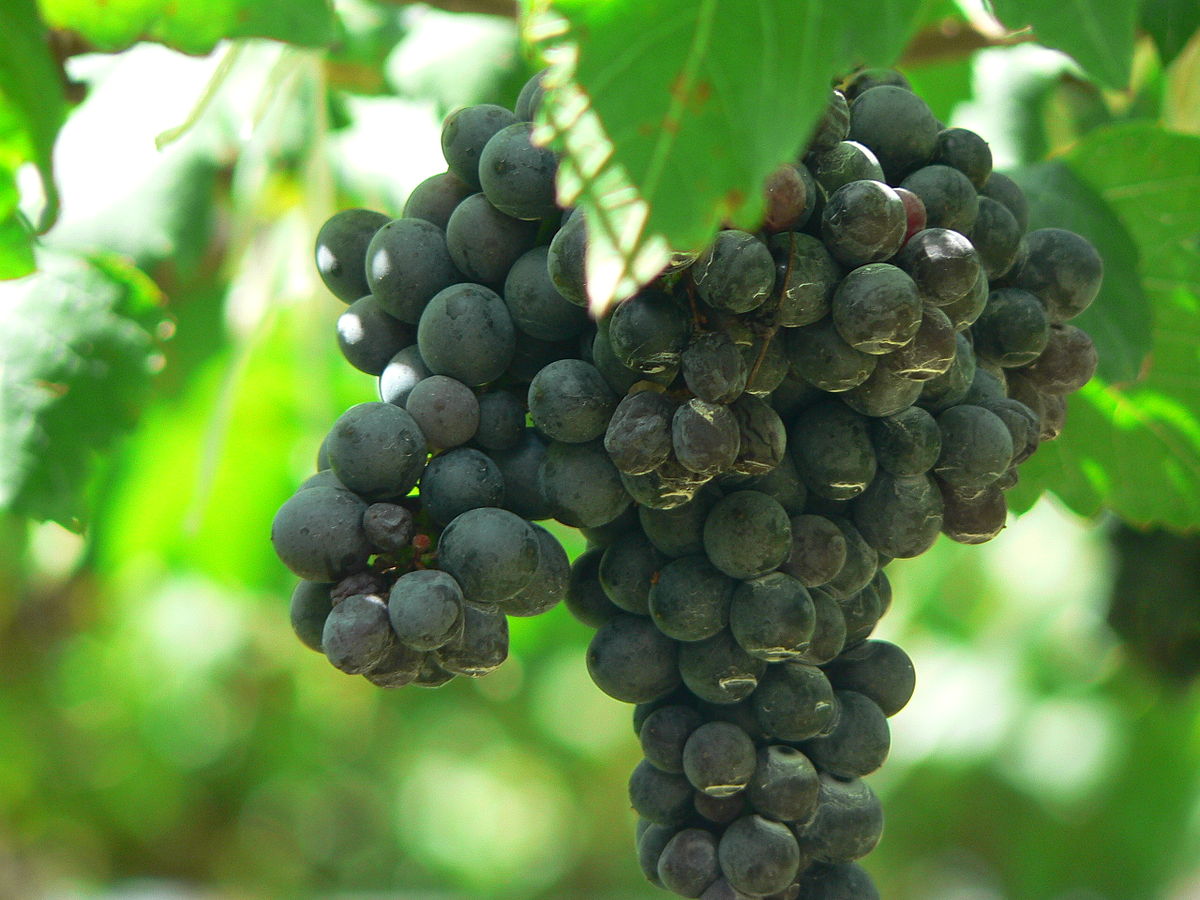 Syrah continues to be the main grape of the northern Rhône and is associated with classic wines such as Hermitage, Cornas and Côte-Rôtie. In the southern Rhône, it is used as a blending grape in such wines as Châteauneuf-du-Pape, Gigondas and Côtes du Rhône, where Grenache usually makes up the bulk of the blend. Although its best incarnations will age for decades, less-extracted styles may be enjoyed young for their lively red and blueberry characters and smooth tannin structure. Syrah has been widely used as a blending grape in the red wines of many countries due to its fleshy fruit mid-palate, balancing the weaknesses of other varieties and resulting in a "complete" wine.
From the 1970s and even more from the 1990s, Syrah has enjoyed increased popularity, and plantings of the variety have expanded significantly in both old and new locations.[7] In the early 2000s, it broke into the top 10 of varieties planted worldwide for the first time.
In Spain there was an increase in the area cultivated in Syrah grapes from 4,000 hectares (9,900 acres) in 1990 to 19,045 hectares (47,060 acres) in 2009.
Besides syrah and shiraz, the grape is known by other synonyms, among which are: antourenein noir, balsam, candive, entournerein, hignin noir, marsanne noir, schiras, syrac, syra, ryrac, serine and sereine.
Syrah Grape (wikipedia) https://en.wikipedia.org/wiki/Syrah
RELATED PRODUCTS
https://www.kalitat.com/?post_type=product&s=syrah
Trackbacks and pingbacks
No trackback or pingback available for this article.
You must log in to post a comment.
Recent News
Recent Reviews
Last Videos
Last Tweets